---
---
Dunlop Motorcycle Tires- The Q5 and Q5S are purpose-built, street-legal, high-performance tires that have been in the making for over 4 years. Utilizing technology shared by Dunlop's cutting-edge MotoAmerica road race tires, the Q5 and Q5S are made in Dunlop's Buffalo, New York plant on the same proprietary equipment as the racing products. Over the years, Dunlop has developed many class-leading sport tires as well as racing tires for professional and amateur road racers.
SPORTMAX Q5 – UTILIZES THE VERY BEST
The Dunlop Sportmax Q5 is evolving from a blend of the highly popular Sportmax Q4 and Dunlop's cutting-edge MotoAmerica spec road race tires. The Q5 utilizes the very best technologies Dunlop has to offer for a track tire that is still street legal.
Having enhanced constructions, profiles, compounds, and tread patterns, the Q5 is the new benchmark for track-day tires. The Q5 is even more user-friendly, has dry and wet grip, tire compliance, and warm-up times have all been improved. Tire warmers are not necessary for track use.
Dunlop has also expanded the size range of the Q5 to include five additional sizes for increased bike fitments: 110/70ZR17,  140/70ZR17,  150/60ZR17,  160/60ZR17,  200/60ZR17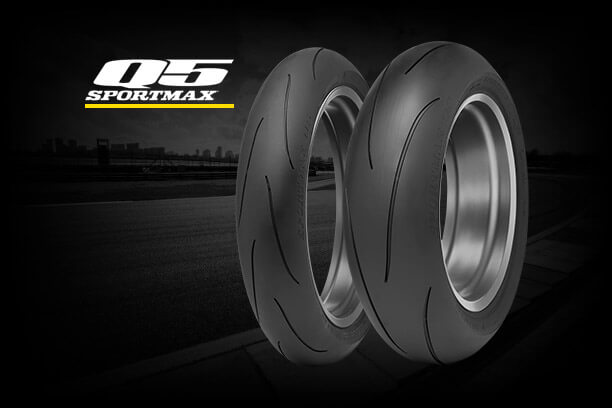 SPORTMAX Q5S – THE NEW BENCHMARK FOR STREET AND TRACK TIRES
Succeeding the highly popular Dunlop Sportmax Q3+, the Dunlop Sportmax Q5S raises the bar for the ultimate street and track-day tire. Following in the development footsteps of the Q5, the Q5S has achieved even higher performance by utilizing aspects from Dunlop's cutting-edge road race tires.
Having enhanced constructions, profiles, compounds, and tread patterns, the Q5S provides lighter and nimbler handling and improved dry and wet grip to make it even more user friendly all while maintaining class-leading durability.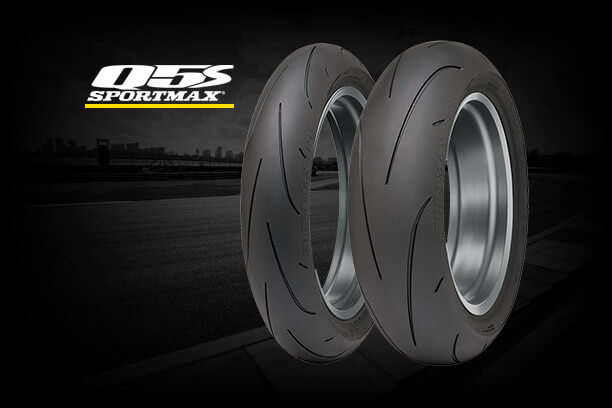 HIGH TECH TIRES
Dunlop Carbon R Technology
Both front and rear tires utilize Dunlop's proprietary Racing Type Fine Carbon Technology in the tread compound. Carbon R has a longer molecule chain than conventional carbon and significantly more bonding points with polymers due to its smaller particle size. The additional bonding points, smaller particle size and longer chains help the compound heat more effectively to improve tire warm-up time and provide increased grip.
ALWAYS INNOVATING
Development never stops at Dunlop. Q5 and Q5S' development took place over 4 years. Testing was done at Dunlop's Huntsville Proving Grounds (HPG), Virginia International Raceway, Chuckwalla Valley Raceway, and Roebling Road Raceway, by Dunlop testing staff such as Taylor Knapp as well as other professional racers. Multiple new compounds were developed and tried, with the final mix contributing to lap times quicker than any other street tires we've ever tested.
---